A Rideabout to Start a New Phase of Life
Next January, at the age of 65, I will enter into semi-retirement – or, as I like to think of it, I'll be put out to stud.  To mark the occasion, I'm planning a two-week, solo motorcycle ride to the Southwest, with one or two side trips outside that territory.
Here's my tentative agenda:
Las Vegas, NM:
My wife and I have stayed at a KOA near here in the past and really liked it.  It's on I-25 but can be reached with only a few short stretches on interstates.   It's also en route to my next destination, but on the way I'll ride the
Million Dollar Highway:
Hard to find a prettier stretch of highway anywhere.  That is, if you're into mountains and such.  That will take me to
Ouray, CO: 
Probably my favorite place in all of the Centennial State, Ouray is at the northern end of the Million Dollar Highway, which winds its way up from Durango.  I'll have to make sure that I get to Ouray before nightfall: I don't want to be riding at night in the mountains.  Since my next stop is not that far away, I"ll be able to enjoy Ouray a little longer than some of the other places.  From Ouray I'll head to another familiar and favorite town:
Moab, UT:
I've been here a couple of times but there's so much to see that I couldn't think of being so close without going there.  It's the northern-most destination on my rideabout but the Arches National Park is an incredible introduction to the canyonlands.  From Moab, I'll backtrack a bit and stop at
Dead Horse Point State Park, UT:
Until a few years ago, I'd never heard of this place.  After seeing some photos of Dead Horse Point, though, I'd be crazy not to stop by.  The Colorado River runs through here and does some amazing carving in the landscapes.  I'll likely have too short amount of time at the park, unless I decide to stay another night in Moab.  When I leave, I'll ride south on U.S. 91, skirting Canyonlands National Park, and turn left on SH 95.  I'll have a long ride ahead of me: my next destination is
Capitol Reef National Park: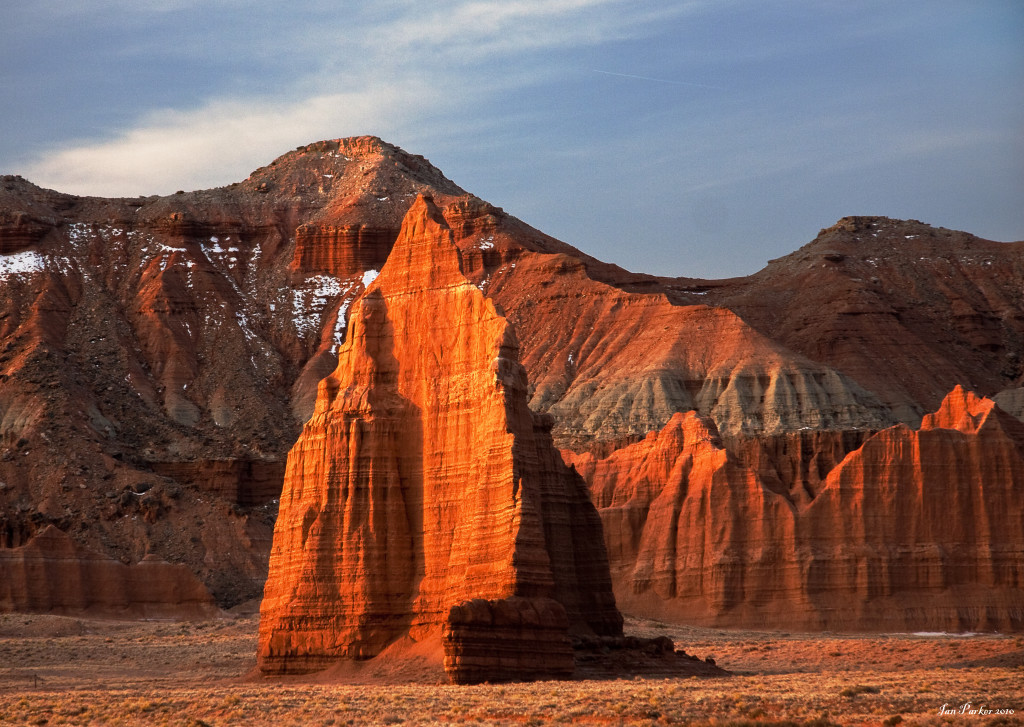 This would be an ambitious ride for a single day: from Moab to Cedar City is 431 miles through some amazing country..  Capitol Reef National Park is about halfway and would be a logical stopping point.  Not a bad place to spend some time.  The next day I'll ride to a familiar town in southwest Utah:
Cedar City, UT:
Cedar City is one of the gateways to what is (so far) my favorite park: Zion National Park.  I saw it for the first time last year and was stunned by the beauty and hands-on feel of the place.  The road that winds through the changing landscape is perfect for a motorcycle and I look forward to being on it again.  Cedar City also marks the halfway point in the trip, in terms of distance (but not time).  I'll head south and east for Arizona and spend the night in
Page, AZ:
Page is well-known for Lake Powell but not so much for Antelope Canyon, where I plan to spend some time.  You've probably seen the pictures without knowing where it was but the formations are unlike pretty much any place else.  I'll take a lot of pictures.  Then it's back to Las Vegas, NM, where the rideabout started.
There's still 700 miles or so to go before getting home but northwestern Texas doesn't have a lot of beautiful scenery.  If I have time, though, I'll be sure to make one last stop at
Palo Duro Canyon:
Never been here but it looks to be a good place to wind up the trip.  It's a little bit southwest, a little bit Texas.  A final place to soak up.
A man can dream, can he not?